Home Asia Pacific South Asia India


Spectacular festival held at Kashmir''s Spituk Buddhist Monastery
ANI, January 25, 2009
Leh, Ladakh (India) -- The "Spituk Gustor", an annual two-day monastic festival, took place at the Spituk Monastery on January 18 and 19 in Ladakh, Jammu and Kashmir.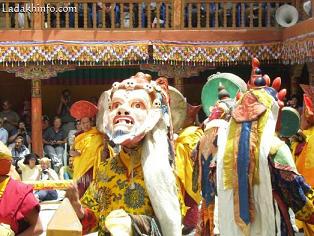 This festival is usually held during the 11th month of Tibetan calendar and marks the victory of virtue over evil.
A hallmark of the festival is the mask dance performed by monks who sport various masks representing the guardians, protectors and the gods and goddesses. "This fair is held every year in January.
Previously only limited people used to come to attend this fair because of poor roads and less transportation. But now a lot of people are coming to attend this festival since the transportation facilities are good now," observed Sonam Rigzen,a former village head of Spituk village. The Spituk Monastery is known for its collection of Buddhist artefacts. It houses a collection of ancient masks, antique arms, icons and numerous Thanka paintings, all done in vegetable based colours.
Spituk Gompa (monastery) that dates back to the eleventh century is located atop a hill overlooking the gushing waters of River Indus, around 18 kilometres from Leh, the District headquarters of Ladakh.
"People from all over the Ladakh come for Spituk Monastic Festival and it''s a famous monastic winter festival of Ladakh region and also we perform special prayers during these days in the monastery," noted Lama Lobzang Thupstan, a monk. The festival ends with the symbolic termination of evils, denoted by the burning of an effigy.