Home Asia Pacific South Asia India


Buddhist monks on hunger strike for control over Bodh Gaya temple
IANS, January 2, 2010
Bodh Gaya Patna, (India) -- A group of Buddhist monks are on a hunger strike to demand control over Bodh Gaya's 1,500-year-old Mahabodhi temple, days after Lok Janshakti Party (LJP) chief Ram Vilas Paswan backed the move and sought the amendment of an act relating to the shrine.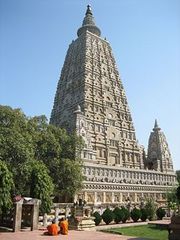 The monks began their fast Friday near the office of the temple management committee at Bodh Gaya, some 110 km from here, where the Buddha attained enlightenment 2,550 years ago.
"It is time we sacrifice our lives for Buddhist control of the temple," Bhante Budh Saran, one of the monks on fast said, adding that many monks from abroad will also join them in their cause.
National Minority Commission members H.S. Hanspal and Spaljes Angmano, who visited Bodh Gaya, said they were likely to meet the Bihar governor to discuss the demand to amend the Mahabodhi Temple Management Act, 1949, under which the Bodh Gaya Temple Management Committee (BGTMC) has four Buddhist and the equal number of Hindu members for a three-year period, with the Gaya district magistrate as its ex-officio chairman.
On Tuesday, Paswan had said: "The LJP will fight for Buddhist control over the management of the Mahabodhi temple and to ensure an amendment in the act."