Home Asia Pacific South Asia India


Dalai Lama offers condolences over Chinese quake
AFP, April 14, 2010
DHARAMSHALA, India -- The Dalai Lama offered his condolences to victims of a devastating earthquake which hit a remote northwestern area of China on Wednesday, killing at least 400 people.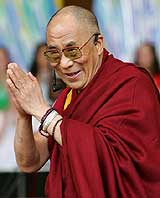 The exiled Tibetan spiritual leader said he would organize a special prayer service in his home in exile, Dharamsala, in northern India and would explore ways in which he could help.
The quake, measuring at least 6.9, rocked a mainly Tibetan area in the province of Qinghai, also injuring about 10,000 people as homes and other buildings including schools collapsed.
"We pray for those who have lost their lives in this tragedy and their families and others who have been affected," the Dalai Lama said in a statement.
"A special prayer service is being held at the main temple (Tsuglagkhang) here at Dharamsala on their behalf," said the Buddhist leader who is at loggerheads with the Chinese leadership over the future of Tibet.
"It is my hope that all possible assistance and relief work will reach these people. I am also exploring how I, too, can contribute to these efforts," the Dalai Lama said, without elaborating.
The Dalai Lama, who has been living in India since he fled Tibet following a failed uprising in 1959 against Chinese rule, wants to see greater autonomy for Tibet within China, but Beijing accuses him of being a separatist.