Home Asia Pacific South Asia India


Buddhist monks demand renewable energy in Bodhgaya
ANI, Oct 20, 2010
Bodh Gaya, India -- Buddhist monks released sky lanterns before Buddha's 80-feet-tall statue to demand renewable energy as a solution to the power crisis in the religious town of Bodhgaya in Bihar's Gaya District.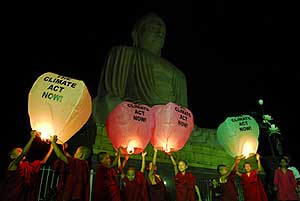 "Many children have been called here from various monasteries because Bodhgaya is a very pure place. Today's event has been organised to create awareness about renewable energy," said Bodhgaya Temple Manager Bhanke Dinanand, while addressing the media persons at Bodhgaya on Tuesday.
"It is considered auspicious to start this noble activity from this area and people have come from different areas to be a part of this great event," he added.
Buddhist monks from Thailand, Japan, China, Tibet and other countries came together to spread awareness about renewable energy in several districts of Bihar, and demanded an energy revolution in the state.
"The message is that we must create electricity and safe energy to avoid climate change," added Dinanand.
The monks are campaigning for renewable energy as a means to deliver electricity to people without adversely affecting the climate.