Home Asia Pacific South Asia India


The Dalai Lama's Sermon In Dharamsala At A Spiritual Retreat
OneIndia, December 1, 2010
Dhramsala, India -- Buddhist spiritual leader Dalai Lama has begun with a three-day sermon in a spiritual retreat in Dharamsala.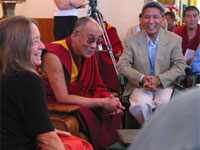 The sermon is conducted with the view to acknowledge the reverence, the Russian Buddhists have towards the Dalai Lama and on their behest.
The sermon, addressed to Russian Buddhists at a monastry in Dharamsala, would include the teachings of Gyalsey Thokme Sangpo''s 37 practices of Boddhisattva (Laklen Sodunma)
Telo Rinpoche, a visiting Russian Buddhist said, ""This teaching is basically requested by Russian Buddhists, for many years, we have been trying to bring the Dalai Lama to Russia. Due to reasons, we haven't been able to bring him to Russia. So, therefore, we have arranged these teachings here in Dharamsala,"
The sermon though organised for the Russian Buddhists, the other audience who thronged at the Tsuglagkhang Temple in Dharamsala to listen to their leader's sermon were Tibetans, including monks and tourists.
The exclusive sermon in the spiritual retreat at Dharamsala, by the Dalai Lama is to end on December 2nd.