Home Asia Pacific South Asia Sri Lanka


Sri Lanka minister shaves head for Buddhism
AFP, May 9, 2011
COLOMBO, Sri Lanka -- A Sri Lankan minister and members of an all-Buddhist political party on Sunday shaved their heads before embarking on a meditation programme to mark the 2,600 anniversary of the religion.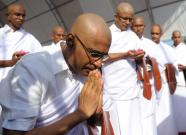 << Sri Lanka's Minister of Power and Energy Champika Ranawaka (L) prays with Buddhist devotees (AFP, Ishara S.Kodikara)
Power and Energy Minister Champika Ranawaka, and Udaya Gammanpila, a ruling-party minister in a local council, were among those who shaved their heads at a ceremony.
"They will dedicate themselves to the religion throughout this week," said Buddhist monk and parliamentarian Athuraliye Rathana.
"They will take part in religious activities for 10 days including meditation", said the monk, a senior member of all-Buddhist party the Jathika Hela Urumaya (JHU).
The annual Vesak celebrations mark the birth, enlightenment and death of Lord Buddha on May 18.
Buddhists account for nearly 70 percent of Sri Lanka's 21 million population.
The government plans to develop some 2,600 temples and Buddhism teaching schools this year. Two special coins and new stamps will also be issued to mark the anniversary, officials said.