Home Asia Pacific South Asia Sri Lanka


Vesak spirit envelopes Sri Lanka
by Chaminda Perera and Priyanka Kurugala, Lanka Daily News, May 5, 2012
Colombo, Sri Lanka -- The entire country is enveloped in spiritual fervour as the nation prepares to celebrate yet another Vesak Full Moon Poya Day marking the birth, enlightenment and passing away of the Buddha.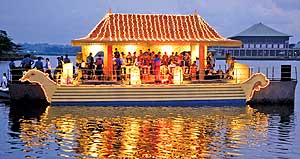 Religious activities, including meditation programmes, will take pride of place in Vesak Full Moon day celebrations at all temples and Buddhist monasteries islandwide during the Vesak Week which commenced on May 2.
Thousands are expected to visit over eight special Vesak Zones where Bakthi gee recitals and lantern competitions are held.
Tens of thousands are expected to visit Amadhara Vesak Zone organised by the Associated Newspapers of Ceylon Limited opposite the company premises for the 22nd consecutive year in association with Sri Lanka Telecom.
Acting Media Minister and Deputy Economic Development Minister Lakshman Yapa Abeywardena will open the Vesak Zone on May 6.
There are over 13 main Vesak pandals within Colombo city limits and danselas and bakthi gee recitals are organised by government and private organisations islandwide.
The Police Department yesterday said special security arrangements covering all areas of the country would be in place from today. A special contingent of police personnel will be deployed for the safety of the public, Police Spokesman SP Ajith Rohana said.