Home Asia Pacific South Asia Sri Lanka


Sri Lankan city calm after unrest over Buddhist statue
AP, May 20, 2005
COLOMBO, Sri Lanka -- Shops opened and buses plied their routes in Sri Lanka's volatile east Friday after three days of protests and explosions that killed at least one person.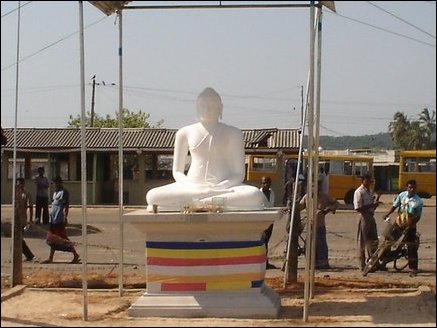 << The newly erected Buddha statue near the Trincomalee bus terminal
"There are people on the streets and some shops have opened for the first time in three days,'' said Y.G. Gunewardene, a police chief in Trincomalee, 230 kilometers (140 miles) northeast of the capital, Colombo.
Tensions remained in the area, however, and the army, navy and police were still on alert.
"We don't want to take any chances,'' Gunewardene said.
A dozen grenades have been lobbed by unidentified attackers in recent days in Trincomalee killing at least one person and wounding five others.
In the latest incident, an unidentified attacker hurled a grenade at a restaurant late Thursday, damaging two vehicles, Gunewardene said.
The upsurge in violence resulted after a Buddhist statue was erected in the town center.
On Tuesday, Tamils protesters - an ethnic minority in Sri Lanka - called for a general strike demanding the statue be removed.
Sri Lanka's influential Buddhist monks have accused Tamil Tiger rebels of inciting Hindu Tamils to attack Buddhist Sinhalese over the statue.
The rebels have denied being behind the attacks.
Trincomalee is home to roughly equal numbers of Hindus, Buddhists and Muslims.
The Tamil Tigers control pockets of territory near Trincomalee, though the government controls the city.