Home Asia Pacific South Asia Sri Lanka


Sri Lanka Vesak Message: Buddhist Teachings Help Strengthen Moral Values
Asiantribune.com, May 6, 2015
Colombo, Sri Lanka -- Protecting moral values along with the development of technology and the economy could be strengthened only through Buddhist philosophy, said President Maithripala Sirisena.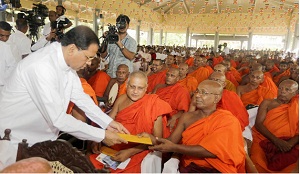 << President Maithripala Sirisena offered a monetary grant to Ven Andaulpatha Buddhasara Thera who suffered injuries and was rendered differently abled during the Aranthalawa attack on Buddhist monks by LTT E terrorists. (Picture courtesy President's Media Division)
The President also said that the government plans to implement a national and international programme to impart a comprehensive knowledge of Buddhism to the people, especially the younger generation, to mold their lives in accordance with the Buddhist principles and teachings. He added that this programme will be formulated under the guidance and instructions of the Chief Prelates of the three Chapters.
President Maithripala made this observation at the State Vesak Festival held at the historic Mahiyangana Rajamaha Viharaya.
The festival organized by the Buddhasasana Ministry and Buddhist Affairs Department under the theme of "Meth Sithin Guna Wadamu". President Sirisena also pointed out the need to strengthen Daham School education in order to expand and improve the knowledge of youth on Buddhism.
The President said the government is duty bound to provide adequate facilities and privileges to improve the knowledge of Buddhist monks. He also added that the government's special focus is concentrated on conserving and protecting Buddhist temples.