Home Asia Pacific South Asia Sri Lanka


Thousands Attend State Funeral of Dissident Buddhist Monk in Sri Lanka
ANI, 13 November 2015
COLOMBO, Sri Lanka -- Thousands of people from all walks of life attended the funeral of dissident Buddhist monk Maduluwawe Sobitha on Thursday. Sobitha was 73 and died last Sunday in Singapore, where he was receiving treatment after heart surgery.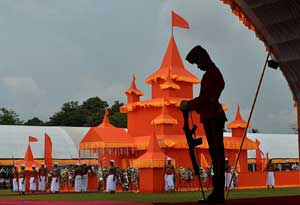 << A Sri Lankan Army personnel keep vigil at the coffin of Sri Lankan Buddhist monk Maduluwawe Sobitha prior to his cremation, at a public park in the capital Colombo on November 12, 2015.
Sobitha acquired fame for campaigning for democratic reforms for over four decades.
He played a leading role in challenging the near dictatorial regime of former President Mahinda Rajapaksa that eventually led to the latter's electoral defeat in the January 2015 presidential elections.
His death triggered a massive outpouring of grief with religious leaders and political leaders from across party lines in this multi-religious and multi-ethnic island nation hailing him as a true democrat who fought for the rights of all people.
Ignoring his last wish for a simple funeral, the government pulled out all stops to give him a full state funeral, which is a rare honour for a Buddhist monk who had no special status in the Buddhist hierarchy.
Speaking on the occasion, Sri Lanka's President Maithripala Sirisena said, "We have to make certain that we achieve his wishes for a just society, good governance and within that a broad enlightened humane society. Very clearly he had a strong commitment to abolish the executive presidential system."