Home Asia Pacific South Asia Sri Lanka


Sri Lanka Buddhist party to contest for presidency
Xinhua, May 31, 2005
Colombo, Sri Lanka -- Sri Lanka's all Buddhist monk party is to field its own candidate in the country's next presidential election, making it the second party to express presidential candidate.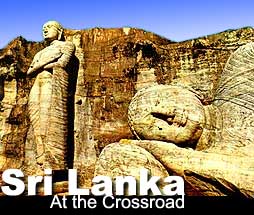 According to a statement made public Monday by the leader of the JHU or the Heritage Party, Venerable Ellawala Medhananda, the JHU would be contesting in the next presidential election to safeguard the rights and the identity of 74 percent Buddhists of the country.
The JHU representing Buddhist monks made a sensational entry into local politics at the last parliamentary election held in April 2004.
The party emerged the third single largest party by winning nine seats in the 225 member Sri Lankan parliament by securing a large chunk of the Sinhala Buddhist vote.
Venerable Medhananda said both major political parties, the United People's Freedom Alliance (UPFA) and the main opposition United National Party (UNP) cared only for the rights of the minority communities, Tamil and Muslims, and left out the majority Sinhala community.
The JHU has now become the second party after the UNP to express candidate at the next election -- the date of which is still uncertain.
The UNP leader Ranil Wickremesinghe has already kicked off his campaign while the ruling UPFA is yet to name its candidate.
The main opposition and the ruling party are locked in a controversy about the date for the next Presidential election.
The UNP maintains it should be held by December 2005 while the ruling party argues it will not be due before December 2006.