Home Asia Pacific South Asia Sri Lanka


Buddhist temple provides shelter and meals
AP, May 19, 2016
Colombo, Sri Lanka -- Hundreds of stunned residents of Sri Lankan villages buried by mudslides took shelter in nine temporary camps set up in schools and a Buddhist temple, where they were being given food, blankets and basic medical treatment.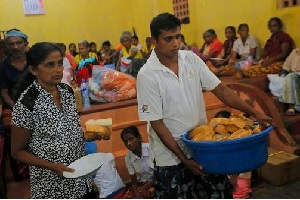 << Volunteers distribute bread at the Buddhist temple in Viyaneliya village in Aranayaka, about 72 kilometers north east of Colombo

At the Viyaneliya Temple, about 300 villagers shared a meal of brown bread and curried lentils. Local officials interviewed each one to learn about missing family members and possessions buried under the mud.

All nine of A.G. Alice's children were unaccounted for after the landslide hit their home in Siripura village.

"I don't know what happened to me'' after the landslides swept down, the 70-year-old said.

A man said his wife, mother-in-law, son and daughter-in-law were all in his house in Siripura when the landslides hit. "I still can't locate my family,'' M.W. Dharmadasa said. ``I still don't know what happened to them.''

The military said 156 people trapped by landslides have been rescued, and that more than 1,550 people are in shelters.





About Us
Get Breaking Buddhist News in your Email. Free subscription.

Please help keep the Buddhist Channel going

Point your feed reader to this location
Wikipedia: Buddhism by Country
Sangha Directory
Ecards
Wallpapers
E-Library
Archives
Sitemap
Submit an Article
Write to the Editor
Affiliation Program