Home Asia Pacific South Asia Sri Lanka


The National Buddhist Intellectual Council appreciates the Presidentís service to strengthen piriven education
Sri Lanka Broadcasting Corporation, 31 January 2017
Colombo, Sri Lanka -- The National Buddhist Intellectual Council appreciates the President Maithipala Sirisena's service to strengthen piriven education.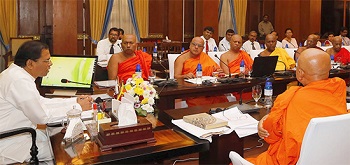 The National Buddhist Intellectual Council gathered under the patronage of the President's office this afternoon.

Director of Piriven Education Ven. Prof. Naabiriththan-kadawara Gnanarathana thero extended special thanks to the president.

Attention was drawn on initiating sustainable development program linking the Buddhist temples countrywide. The council also talked on improving the curriculum of dhamma schools.

The president said that the government has taken all the measures to make Sri Lanka the Theravada Buddhist center in the world.





About Us
Get Breaking Buddhist News in your Email. Free subscription.

Please help keep the Buddhist Channel going

Point your feed reader to this location
Wikipedia: Buddhism by Country
Sangha Directory
Ecards
Wallpapers
E-Library
Archives
Sitemap
Submit an Article
Write to the Editor
Affiliation Program