Home Asia Pacific South Asia Sri Lanka


Renovation of tsunami-damaged temples to begin in Sri Lanka
ColomboPage News Desk, July 15, 2005
Colombo, Sri Lanka -- The Sri Lanka Treasury is allocating Rs. 125 million to the Buddha Sasana Ministry to rehabilitate and reconstruct Buddhist temples and places of worship that were damaged by the December 26 tsunami catastrophe.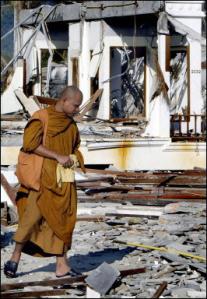 Treasury Secretary Dr. P.D. Jayasundara has promised to allocate funds to carry out the renovation program, Buddha Sasana Ministry Secretary D.W. Abeywickrema said.
According to Mr. Abeywickrema, more than 80 temples were completely damaged by the disaster and the Ministry has undertaken this program to rehabilitate and reconstruct temples in Matara, Galle, Hambantota, and Ampara. The program will also include reconstruction of temples in Batticaloa and Trincomalee.
Mr. Abeywickrema said the program to repair and rebuild temples would cost the Ministry around Rs. 130 million, and the Treasury has stepped in to provide necessary funds as only the Buddhist countries of the region have donated funds towards repairing the temples.
At a meeting with the Maha Sangha in the South, Minister Ratnasiri Wickremenayake confirmed that what the government gives towards rebuilding temples was ?hard earned money by the indigenous people and not donations from the West except donations received from the friendly Buddhist countries.?