Home Asia Pacific South Asia Sri Lanka


Buddhist hierarchy plans mass ordination of monks
Gulf Times (AFP), March 14, 2006
COLOMBO, Sri Lanka -- Sri Lanka will hold a mass ordination of monks to mark the arrival of Buddhism in the island nation 2,550 years ago as well as staff dozens of temples faced with closure, an organiser said yesterday.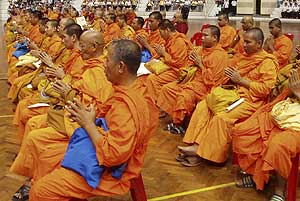 Starting on the first full moon day of May, 2,550 Buddhist monks will be ordained in an ambitious project to swell depleted ranks, monk Missaka Kamalasiri said.
"We have a severe shortage of monks in the country and several temples have closed down because of this," said Kamalasiri who is the co-ordinating secretary of the Buddhist anniversary celebrations. "We hope to have 2,550 joining the priesthood within a year."
Buddhism came to Sri Lanka from neighbouring India. Sri Lanka's Theravada sect, the orthodox form of Buddhism, has close links with India, Nepal, Myanmar, Thailand and Japan.
Kamalasiri said although a previous mass ordination in 2001 failed to bring results the state had approached the Buddhist hierarchy this time to drum up support across the country to attract youngsters.
Buddhist monks are not paid a salary and must depend on the offerings of devotees. However, a large number of novice monks have their higher education paid for by lay custodians of temples.
Kamalasiri said there were an estimated 25,000 Buddhist monks in this country of 19.5mn people. About 70% of the population are Buddhists.
Officials said high living costs discouraged donations to temples and some places of worship found it difficult to feed their clergy as well as lay workers.