Home Asia Pacific South Asia Sri Lanka


Somawathi shrine not attacked, chief monk
BBC, June 21, 2006
Colombo, Sri Lanka -- The head monk of a Buddhist temple has contradicted a Sri Lankan government report that the Tamil Tigers attacked his temple. The monk told the BBC that shots had been fired at a sentry point, not at the Somawathi shrine itself, 170km (105 miles) north-east of Colombo.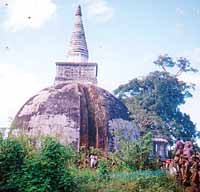 He said it was unclear who fired the shots. The Tamil Tigers earlier denied attacking the temple.
Meanwhile, the rebels have said they are committed to a four-year-old truce.
The shrine's chief monk, Mahamune Sri Sumangala, told the BBC Sinhala service it was difficult to see a motive for the attack near his temple, which injured no one and caused no damage.
"All through the conflict, we never had any trouble from the Tigers," he said.
"Since 2002, the area had been relatively peaceful. But there are so many groups around in the area including hunters. It is difficult to say who is responsible."
A government statement had earlier accused the rebels of firing small arms towards the Somawathi shrine on Monday.
The statement said the rebels had attacked the shrine to try to "arouse the sentiments of the Sinhalese Buddhists against the innocent Tamils to cause Sinhalese-Tamil strife".
"On retaliation by security forces guarding the sacred site, the insurgents fled the scene, abandoning yet another attempt to create a backlash," the statement said.
The rebels swiftly denied the allegation.
Related story:
Sri Lanka rebels 'attack historic Buddhist temple'