Home Asia Pacific South Asia Sri Lanka


Sulugal Vihara needs urgent renovation
Lanka Daily News, June 13, 2007
Ganewatta, Sri Lanka -- A number of Buddha statues in Sulugal Vihara, a historical temple at Peddawa, Mahamookalanyaya in the Ganewatta Divisional Secretariat division are being destroyed by termites.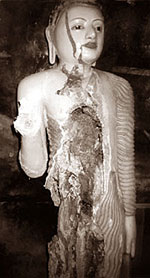 << The eighteen feet Buddha statue disfigured by termites - Hiriyala Group Corr.
A large portion of the frescoes too have been destroyed and now the plaster is falling off. The ancient dagoba in the premises also lies in ruins.
According to history, this temple had been built in the Kandyan era. Several recumbent Buddha statues too have been eaten into, disfiguring them.
The Dayaka Sabha of the temple request the department of archaeology to take action to renovate these statues and frescoes.