Home Asia Pacific South Asia Sri Lanka


Lankans extol Shah Rukh Khan's virtues
by PK Balachanddran, The Hindustan Times, December 15, 2004
Colombo, Sri Lanka -- Sri Lankans not only see Shahrukh Khan as a great actor, but also as a cultured and humane person who represents the best in Indian and Asian culture.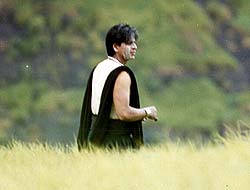 The Indian screen icon, who is the darling of millions in Sri Lanka also, is coming in for high praise because Sri Lankans are filled with remorse after a Buddhist fanatic threw a bomb at his concert last Saturday and killed two innocent youngsters.
The Janatha Vimukthi Peramuna (JVP), a Sinhala-Buddhist Sri Lankan party, has described the Indian star as a symbol of India's composite culture and an upholder of noble values.
"Shahrukh Khan had become the symbol of Indian culture breaking the boundaries of his own race and religion. Though he was Muslim by birth, he cared more about portraying himself as an Indian," the JVP said in a formal statement on the incident.
"The JVP considers him a respectable person not merely because he is a versatile actor but because of his symbolic character. He showed that he was culturally broadminded by being humble enough to apologise to the Buddhists and request the audience to observe two minutes' silence as a mark of respect to the late Ven Gangodiwila Soma Thero," the statement said.
In a remorse filled article in Daily Mirror, Sirohmi Gunesekera has urged every Buddhist in Sri Lanka to see Shahrukh Khan in the film Ashoka (photo, top).