Home Asia Pacific South Asia Sri Lanka


Tribute to renowned teacher of Buddhism
The Sunday Times, June 24, 2007
Colombo, Sri Lanka -- The funeral of Maligakanda Vidyodaya Pirivenadhipathi, Mahnayake Ven. Akuretiye Amarawansa Thera, will take place tomorrow at the Independence Square.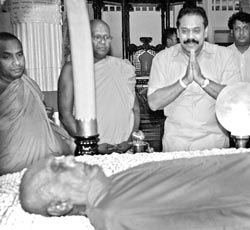 Ven. Amarawansa Thera passed away on Thursday night at the age of 98. Ven Amarawansa who had a Post Graduate Degree from the Nalanda University in India was also a reputed dhamma preacher here and abroad and was known for translating many books on Abhidharma including the Mahavansa Teekawa and Datawansaya into Sinhala.
The President in his condolence message said that the Mahanayaka had been a pious Bhikkhu and a teacher well versed in Sinhala, Pali, Sanskrit, English and Hindi.
"I remember with devotion the service done by the Mahanayaka for 84 years, being a pioneer in promoting Buddhism.
"Ven Amarawansa Thera was not only an adviser in my political life, but also in my personal life as well," the President said in his condolence message.