Home Asia Pacific South Asia Sri Lanka


Sri Lanka President meets Pilgrims from North and East at Kataragama
Lankamission.com, July 25, 2007
Katharagama, Sri Lanka -- President Mahinda Rajapaksa met devotees from North and East taking part in annual religious ceremonies connected with the Katharagama main festival, during his surprise visit to the sacred area yesterday.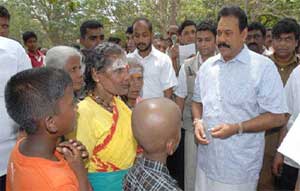 Speaking to the devotees from North and East the President said that the Government has initiated all the necessary activities that should be carried out to develop the regions and to uplift the livelihood of those people. The implemented projects would be prioritized and accelerated in order to achieve the intended development in Northern and Eastern provinces.
President Rajapaksa participated in the Buddhist religious observances at 'Kiri Vehera' officiated by incumbent monk of Kiri Vehera temple Ven. Aluthwewa Soratha Thera and as well as in Hindu Poojas at the Kataragama Devalaya (temple).
The President moving freely among the crowd also took time to help in distribution of food at a 'Dansala' organized by the devotees themselves.
Youth Welfare and Social Economic Development Minister Arumugam Thondaman, Deputy Minister Suresh Wadiwel, President's Secretary Lalith Weeratunge and Defence Secretary Gotabhaya Rajapaksa accompany the President.