Home Asia Pacific South Asia Sri Lanka


Buddhist paintings add colour to Kandy Perahera
The Sunday Times, Aug 17, 2008
Kandy, Sri Lanka -- "Disi Ru Pelahara", a photographic exhibition and documentary film show on the heritage of Buddhist art in Sri Lanka, comes to an end today at the Queen's Hotel Kandy.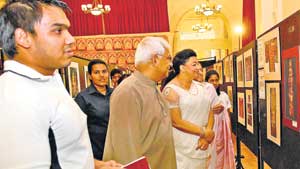 << First Lady Shiranthi Rajapaksa viewing the paintings.Tharunayanta Hetak Movement chairman Namal Rajapaksa and Dr. Dayahewa Pathirana, Advisor to the President are also in the picture.
The exhibition that drew large crowds during the Kandy Esala Perahera was organised by the Presidential Secretariat and the Dalada Maligawa.
The exhibition displays about 500 photographs of exquisite paintings that adorn historic viharas and Buddhist sites across the country, including those designated by the UNESCO as World Heritage Sites.
The photographs, a visual feast of our rich culture ranging from the 3rd century BC to the 21st century include ancient cave paintings, temple murals, old manuscripts among other things.
Dr. Daya Hewapathirana, Advisor to the President was instrumental in organising the exhibition which will be open till 4 p.m. today.