Home Asia Pacific South Asia Sri Lanka


Visiting Chinese Buddhist delegation leaves today
The Nation, Aug 9, 2009
Colombo, Sri Lanka -- The 102-member Chinese Buddhist delegation on a visit here from August 2 will leave the country today.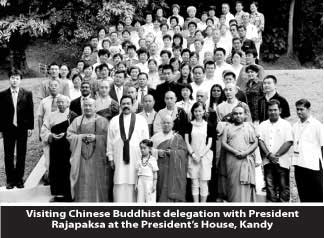 The visit of the Buddhist delegation led by Ven. Shi Yie Chang, the chief abbot of the Lingguang Temple in Beijing was organised to strengthen the Buddhist cultural relations between the two countries, Foreign Affairs Ministry said.
President Mahinda Rajapaksa, during his state visit to China, accompanied by a high level Buddhist delegation in 2007, called at the Lingguang Temple. "The President on that occasion gifted a stone replica of Samadhi Buddha statue in Anuradhapura to this temple," Ministry sad.
The delegation includes senior monks highly respected in China and officials from the Chinese Buddhist Association.
The delegation had occasion to witness the Randoli Perahera, pay homage to Sri Dalada and visit Sigiriya, Kelaniya Raja Maha Viharaya, and Pinnawala Elephant Orphanage during their sojourn here.
The delegation also paid courtesy calls on the Asgiriya and Malawatte Mahanayake Theras.