Home Asia Pacific South Asia Sri Lanka


Sri Lanka politician blasts government for inviting ruthless Myanmar dictator Than Shwe
By Kelum Bandara, Daily Mirror, Nov 13, 2009
Colombo, Sri Lanka -- Sri Lanka Freedom Party (SLFP) leader Mangala Samaraweera yesterday criticized the government for arranging a visit by Myanmar junta leader Than Shwe and described him as one of the most ruthless anti democratic leaders scorned by the world community.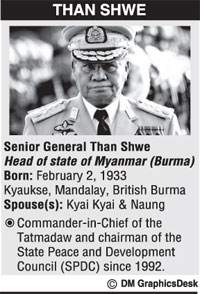 Mr. Samaraweera told a news conference that since 1989 Mr. Shwe had stifled democratic governance in Myanmar by depriving the popularly elected opposition leader Aung San Suu Kyi of being involved in the country's politics and continuing to keep her under house arrest.
"Ms. Suu Kyi is being held in detention. Myanmar is a Buddhist country with a great history and a civilization as old as ours. This military junta leader is now going to be accorded state honour in Sri Lanka. Apart from that, an exposition of the Sacred Tooth Relic has been organized for him. But, the whole world looks with contempt at his anti-democratic leadership leading Myanmar down the path of disaster," Mr. Samaraweera said.
He said that there was enough evidence about the atrocities committed by Mr. Shwe who has even suppressed the independent media in Myanmar.
"We saw in 2007, how Buddhist monks who took to the streets against his tyrannical administration were cruelly treated. At least 138 monks were killed in cold blood during their struggle for democracy," Mr. Samaraweera said.
He said it was strange that the UPFA government had teamed up with the countries where democracy was not practiced in its truest sense.