Home Asia Pacific South Asia Sri Lanka


Sri Lanka President appreciates the guidance from Buddhist monks
ColomboPage News Desk, Dec 6, 2009
Galaha, Sri Lanka -- Sri Lanka President Mahinda Rajapaksa today expressed his appreciation to the Buddhist monks for the guidance and blessings he received from the Maha Sanga during the liberation of the country from terrorism.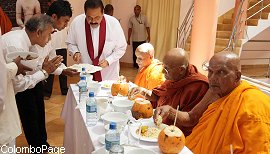 President Rajapaksa made these remarks at the opening ceremony of a new hospital and a nursing home for the Buddhist monks today at Galaha in Sri Lanka's hill capital Kandy.
The President said the Maha Sangha of the country has contributed enormously to eradicate the terrorism from the country and a revival of Buddhism too will result from the reunion of the country.
He planted a tree to mark the occasion and presented a memento to the parents of Ven. Deltota Dammajithi thero who donated the land for the hospital. He then admitted the first patient monk to the hospital built at a cost of 50 million rupees.
The President said similar centers to treat sick monks will be established at provincial level.
Ven. Udugama Sri Buddarakkitha Asgiri Mahanayake Thero, Ven. Dauldena Gnanissara Anunayake Thero, Ven. Pilapitiye Gnanavasa Anu Nayaka Thero, Ven. Deltota Dammajothi Thero, Ministers Nimal Siripala De Silva, Mr. C. B. Ratnayake, and Mahindananda Aluthgamage were also present.