Home Asia Pacific South Asia Sri Lanka


Maha Sangha protected Buddhist places of worship: VEN. Vipassai Thera
By Kanchana Kumara, Daily Mirror, 10 March 2010
Colombo, Sri Lanka -- Director General of the Pelpola Vipassai Foundation, Ven. Pelpola Vipassai Thera said the Buddhist places of worship and the historic monuments of religious and cultural importance would have perished if not for the protection provided to them by the Maha Sangha.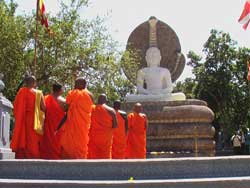 The Thera was addressing the devotees who gathered at the unveiling of the Samadhi Statue erected in 40 days at the Pidurangala Rajamaha Vihara in Sigiriya.
The 33ft tall Samdhi Satutue was erected by a renowned sculptor Liyanage Athula Kulara Perera under the guidance of Ven Inamaluwe Sri Sumangala Thera. He used only ruble, quartz sand and cement.
He did not use any kind of paint available in the market to erect the statue which could not be distinguished from a marble statue.
Ven. Vipassi Thera further said "Many people today waste their time without engaging in any gainful and purposeful enterprise. Meanwhile the Buddhist monks render a yeoman service to mankind.
They protect the country's culture, the age old traditions and social values and lead the people along the right path. It is the paramount duty of all those concerned to help the temples and the Buddhist monks"
It was of significance that a delegation from the Thai Royal Family attended the ceremony.