Home Asia Pacific South Asia Sri Lanka


Buddhist and National flags not respected: Thera
By K.S.Fernando, Daily Mirror, May 5, 2010
Colombo, Sri Lanka -- Chief Incumbent of Panadura Rankoth Vihara historic temple and Senior Lecturer of the Kelaniya University Ven. Professor Kahapalage Sugatharathana Thera said the Buddhists today celebrated the 125th anniversary of the Buddhist flag but the National Flag and the Buddhist flag have not received the pride of place.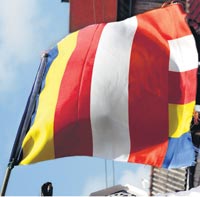 << The Buddhist Flag
Addressing a ceremony in front of the Gunananda Statue in Panadura to commemorate the 125th; anniversary of the Buddhist flag, Ven. Sugatharathana Thera further said " Buddhist Flag and the National Flag are used to decorate public places and roads without due respect to them. Buddhist flags carrying pictures and incongruous sayings are often used for decorations.
Sinhala kings carried flags demonstrating the country's sovereignty and independence when they marched to the battle field to wage war against the invaders. This aroused the patriotic feelings among the warriors and the people.
The late Prof. Gunapala Malalasekara passed a resolution in the All Ceylon Buddhist Congress to give international recognition to the Buddhist flag introduced by Colonel Alcott, Ven. Hikkaduwe Sri Sumangala Thera, Ven. Migettuwatte Gunanasda Thera and Srimath Anagarika Dharmapala"
Ven. Sugatharathana Thera stressed that the government should pass legislation to give due recognition to the Buddhist Flag and to prevent it being misused. Ven. Kotugoda Jothirathana Thera also addressed the gathering. The ceremony was organised by the Panadura Buddhist Association.