Home Asia Pacific South Asia Sri Lanka


Sri Lanka President seeks insight from Buddhist prelates for common problems
ColomboPage News Desk, Oct 2, 2010
Polonnaruwa, Sri Lanka -- President Mahinda Rajapaksa Friday met with the chief incumbents of the Buddhist temples in Polonnaruwa, Anuradhapura, and Trincomalee districts and sought the guidance from the Nayaka theras to find solutions to the problems common to the region.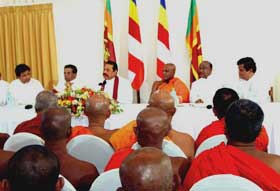 During the discussion, the President pointed out that his goal is to build a law abiding and disciplined a society that will never be subjected to decay.
The government is fulfilling with extreme diligence its responsibility to nurture Buddhism while safeguarding the rights of people of all religions, the President said, adding that the country's law is is being implemented to all citizens equally.
The chief prelate of the 12 temples in Polonnaruwa district Venerable Wenderuwe Sri Upali Nayaka Thera led the group of monks in the discussions.