Home Asia Pacific South Asia Sri Lanka


Thailandís Buddhist artifacts for Lankaís International Museum coming in February
Asian Tribune, Jan 29, 2011
Colombo, Sri Lanka -- Eleven Buddha statues donated by Thailand to Sri Lanka's proposed International Buddhist Museum (IBM) will arrive in Colombo in February.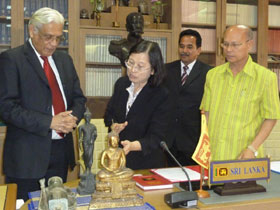 Thailand's Department of Fine Arts has donated the 11artifacts to the IBM located at the Temple of the Sacred Tooth in Kandy last week.
The Artifacts will be shipped to Sri Lanka in February. They are scheduled to be displayed at the Thailand Gallery of IBM, Kandy.
The 11 artifacts were presented to Sri Lanka at a ceremony held at the Department of Fine Arts in Bangkok. The artifacts were handed over to the Ambassador of Sri Lanka Prof J.B. Disanayaka by Mr Karun Sutthipool, Deputy Director-General of the Fine Arts Department in the presence of Mr. Anan Chuchoti, Director of The Office of National Museum's Fine Arts Department and Dr. Amara Srisuchat, Senior Researcher, Office of the National Museums.
Mr. Sutthipool said that this event marks another important link in the history of Sri Lanka - Thailand relations. "The new proposed Gallery will help promote better relations between the two Theravada Buddhist countries in the world" he said.