Home Asia Pacific North Asia Japan


Authorities in Buddhist Japan consider burying quake victims
RIA Novosti, March 18, 2011
Tokyo, Japan -- Authorities in Buddhist-majority Japan have given the green light for some of the 6,500 people killed by last week's earthquake and tsunami to be buried, citing fuel shortage, a government spokesman said on Friday.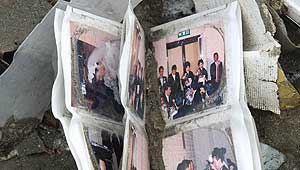 Buddhist tradition calls for the burning of the deceased.
"The situation in different crematoriums varies, which is why a flexible approach has been urged," Kyodo news quoted Yukio Edano as saying.
Authorities in the Miyagi prefecture, which was worst struck by last Friday's 8.9-magnitude quake and ten-meter tsunami, have already allowed burials.
Under the law on burial and cremation, local authorities have the power to allow burials, but some of them are against the move over sanitary or other reasons, Kyodo said.
The disaster claimed the lives of at least 6,539 people, according to official police statistics. But the real figure could be tens of thousands. About 10,200 are still missing.