Home Asia Pacific North Asia Japan


Buddhist service for Japan's tsunami dead
AP, 29 April 2011
Soma, Japan -- Buddhist priests burned incense and chanted yesterday for Japan's tsunami victims, marking the 49th day since the disaster and closing the period when the dead were believed to be wandering restlessly through destroyed home towns.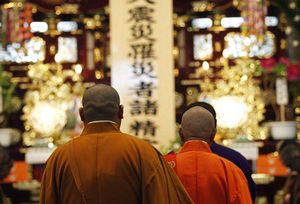 << Monks enter the hall in Soma in the Fukushima district. AP

About 1,200 mourners attended a ceremony organised by 170 priests in the north-eastern town of Soma, where much of the coast remains buried in debris from the 11 March earthquake and tsunami.

On an emotional occasion many carried framed photographs of lost family and friends. Some clutched wooden tablets showing Buddhist names assigned to the dead to help them find their way into their next phase of existence.

Meanwhile in Tokyo, the Dalai Lama has presided over prayers for victims of Japan's tsunami at a temple.

The spiritual leader of Tibetan Buddhists led a group of monks as they chanted on the 50th day since a magnitude-9.0 earthquake triggered a powerful tsunami on March 11.

He told the crowd Friday that despite the suffering and destruction there is "no reason to feel discouraged and remain hopeless,"

In many Japanese schools of Buddhist thought, the dead wander near their homes for 49 days before heading into their next stage of existence on the 50th day.

The Dalai Lama also encouraged survivors to "work hard, with full self-confidence."

The disaster is believed to have killed nearly 26,000 people, although only about 14,500 bodies have been found. Many swept out to sea may never be found.