Home Asia Pacific North Asia Japan


Shinnyo-en Buddhist 'Eye Opening' Ceremony In Japan
The Huffington Post, Oct 15, 2011
Tokyo, Japan -- Shinnyo-en Buddhism celebrated the re-inspiriting of the Nirvana Buddha sculpture in the renovated Nirvana Hall at Oyasono, the head temple complex of the order in western Tokyo prefecture.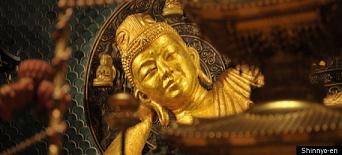 The ritual to enshrine the peaceful and elegant image is called "the eye-opening ceremony," which has long been a part of many Buddhist traditions. The ceremony inspires people to seek personal growth and awakening through acts of kindness, generosity and compassion in daily life.
Shinnyo-en is considered a layperson's Buddhism that uses the last teachings of the Shakyamuni Buddha as its central text. The third enshrining ceremony represents a significant step for Shinnyo-en as it brings renewed energy to spiritual community.
It was Master Shinjo Ito who was inspired to begin sculpting the Buddha image in 1957, who prayed, "May you cultivate the inherent Buddha nature that lies within each of you, so that you become Buddhas."