Home Asia Pacific North Asia Japan


Buddhist followers pray for hostages during cold water ablutions in Wakayama
by KAZUHIRO NAKATA, Asahi Shimbun, January 26, 2015
KOYA, Wakayama Prefecture, Japan -- In sub-zero temperatures in this mountainous region, Buddhist followers prayed Jan. 25 for the safety of hostages held by terrorist groups in their annual ablution ceremony in frigid waters here.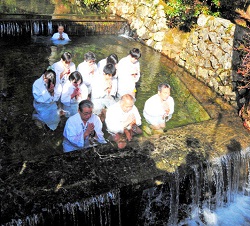 << Buddhist followers pray during an ablution ceremony in the Tamagawa river at an inner sanctuary of the Kongobuji temple in Koya, Wakayama Prefecture, on Jan. 25. (The Asahi Shimbun)
"Terrorism occurs in many parts of the world so we again pray for a peaceful world, the safety of the hostages and early recovery of the regions devastated by earthquakes," said Shinkai Tsujita, the deputy chief priest of the Hojuin temple of the Koyasan Shingon-shu sect, who was involved in the purification ritual.
The 11 male and female followers in white garments, ranging from 21 to 76 years in age, belong to the Hojuin temple, located in the village of Kawakami, Nara Prefecture. They entered the Tamagawa river, which flows through an inner sanctuary of the Kongobuji temple in the Koyasan region, home to many religious sites.
During the ablution ritual, the participants chanted a Buddhist sutra for about 15 minutes.