Home Asia Pacific North Asia Japan


Japan Buddhist group to build 2 monuments on Saipan
By Junhan B. Todiņo, Marianas Variety, 2 Mar 2015
Saipan, Japan -- SAIPAN Mayor David M. Apatang says the Nenpou Shinkyou Buddhist Denomination, which has 88 temples throughout Japan and a million members, is planning to erect monuments at the Last Command Post and at Banzai Cliff where they hold peace ceremonies every year.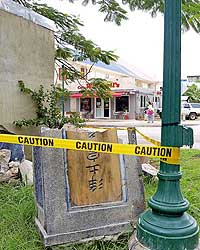 << This Japanese monument on Coral Tree Avenue near Fiesta Resort is believed to have been damaged by a vehicle. Photo by Junhan B. Todino
Members of the group are scheduled to visit Saipan in May for their annual pilgrimage.
"We are working with the Japanese group and other groups from Asian countries to enhance our tourism," the mayor said after meeting with the visiting Nenpou delegation last week.
The Buddhist group will also conduct a beautification program in preparation for the May event, Apatang added.
Aya Matsumoto of Pacific Eagle Enterprises accompanied the group during its recent meeting with Apatang.
Matsumoto said there are 200 Nenpou delegation members who will be on Saipan for their pilgrimage in May.
Apatang said he was also informed that another Japanese group is planning to repair the Japanese monument near Fiesta Resort in Garapan.
The monument was either vandalized or damaged by a vehicle in February.
Division of Parks and Recreation Director Eli Cabrera said he will talk with the Historical Preservation Office about the maintenance of the monument whose repair, according to Apatang, will be paid for by the Japanese group.