Home Asia Pacific North Asia Japan


Kamakura's Great Buddha waltzes through 'health checkup'
By TAMOTSU SUGAO, AWJ-Asahi, March 10, 2016
KAMAKURA, Kanagawa Prefecture (Japan) -- He might be eight centuries old, but the Daibutsu Great Buddha here is in better shape than ever after a two-month "health checkup" was completed March 10.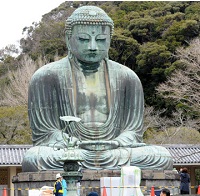 Scaffolding and translucent sheets that covered the Buddha during the cleaning and checking procedure have now been removed. The work that got under way Jan. 13 at Kotokuin temple was the Buddha's first major checkup in 55 years.
Visitors can once again climb inside the bronze statue from March 11.
Standing 13 meters tall, the 121-ton statue is believed to have been erected in the 13th century. It is a designated national treasure.
Among the tasks that workers carried out during the cleaning were the removal of discarded chewing gum, bird droppings and other stains. X-rays determined that the Buddha's overall condition is good.