Home Asia Pacific North Asia Japan


Asian Games: Japan's Buddhist monks embrace kabaddi
AP, Dec 5, 2006
DOHA, Qatar -- Chanting a different and faster mantra on the kabaddi court at the Asian Games is a group of Japanese Buddhist monks who have embraced the ancient Indian sport that evolved as a means of keeping soldiers fit between battles.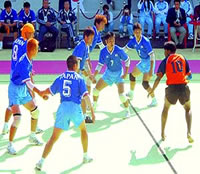 << 10 of 12 players from Japan's kabaddi team are former Taisho scholars
Shojun Shimizutani, Kokei Ito and Ryoki Nishioka first witnessed the subcontinental rural game while studying at university, and have pursued it with so much gusto that they've become regular members of Japan's national team -- which has a Buddhist monk as coach.
Of the 12 players in Japan's national squad, 10 are former Taisho scholars.
Kabaddi is most popular in rural parts of the subcontinent because of its low cost requirements.
It is traditionally played on a rectangular, water-softened earth or grass court, but international events have been staged on synthetic mats for the past four years.
Kabaddi, a version of the schoolyard game of tag, is played between two, seven-member teams starting on either side of a line drawn across the court.
A "raider" from one team is sent to the opposing half chanting the word "kabaddi, kabaddi, kabaddi" continually while holding his breath and trying to score points by touching players from the opposing team and getting his body over the end line.
To keep the points, the raider has to get back into his own half without being caught or tackled to the ground.