Home Asia Pacific North Asia Japan


Mysterious Buddhist ritual for women to be re-enacted in Tokyo
Mainachi Shimbun, Dec 27, 2006
Tokyo, Japan -- "Nunobashi kanjoe," a sacred ceremony praying for the rebirth of women in "gokuraku-jodo" (pure land of bliss in Japanese Buddhism) in Toyama Prefecture's Mount Tateyama, that was barred to women in the Edo Period, will be re-enacted in a Buddhist chant concert in late January, 2007, in Tokyo's Aoyama.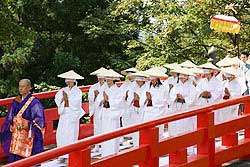 During the ceremony, blindfolded women in white slowly walk and cross a bridge covered with a white cloth, led by monks and "gagaku" (ancient Japanese court music) performers.
The ceremony, once disappeared after the movement of "haibutsu kishaku" (abolishing Buddhism) in the early Meiji Period, but was reproduced for the first time in 140 years in 1996.
If you visit .....
When: Jan. 20 and Jan. 21 (8:30 p.m.-around 10 p.m.). Doors open at 8 p.m.
Where: Spiral Garden, 1F Spiral, 5-6-23 Minami Aoyama, Minato-ku, Tokyo (One minute walk from Exit B1 or B3 from Omotesando Station on the subway lines).
Tickets: 4,500 yen at the door, 4,200 yen in advance.
Reservations: Call Ticket Pia at (0570) 02-9990 (operator-assisted call) or (0570) 02-9999 (P-code 246-420), Kaibunsha at (03) 3275-0220 or Spiral at (03) 3498-1171.
Inquiries: Call Kaibunsha at (03) 3275-0220 or Spiral at (03) 3498-1171.