Home Asia Pacific North Asia Japan


Bells toll in Japan temples as 2007 dawns
NDTV, January 1, 2007
Tokyo, Japan -- Temples, shrines and mountains in Japan were besieged by New Year's revellers as the Japanese bade farewell to 2006 and embraced the new year.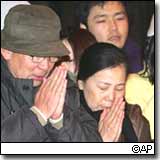 The country's major Buddhist temples and Shinto shrines are expected to receive 95 million visitors over the next three days.
People are offering prayers for peace, health and prosperity in one of the few religious rites in which most Japanese regularly take part, police said.
At the Zojoji temple in Tokyo, thousands gathered to watch the temple monks ring the bells to herald in 2007.
Temples invited people to erase their pains and sins from the old year by ringing their bells at midnight.
On the stroke of midnight, temple monks rang the bells to herald 2007, as thousands of people gathered to celebrate and pay their respects.
The bell tolling at midnight - an ancient tradition at Zojoji Temple - is an important part of the ceremony.
According to Buddhist beliefs, humans have 108 sins and desires. By ringing the bells 108 times, it is thought one can be absolved of all of them.
Balloons made of environmental-friendly starch were released by temple monks and visitors, with a note attached to each balloon with people's hopes and desires for the year 2007.