Home Asia Pacific North Asia Japan


Vandals splash paint on gates of Kyoto's Sanjusangendo
The Yomiuri Shimbun, Sept 24, 2007
Kyoto, Japan -- Two gates of the renowned Sanjusangendo Buddhist hall in Higashiyama Ward, Kyoto, were found Sunday morning to have been vandalized with gray paint, police said.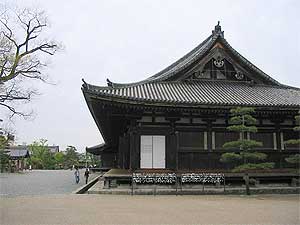 Higashiyama Police Station is investigating the case on suspicion of property destruction.
About 8 a.m., a temple employee noticed the paint splotches on the hall's Kitamon and Todaimon gates.
According to the police, a section about 1.5 meters by 1 meter on the Kitamon gate and one about 1.4 meters by 3 meters on the Todaimon gate were defaced with the paint, which seems to have been thrown from a container.
The Kitamon gate was built during the Edo period (1603-1867), while the Todaimon gate was built in 1961. They were repainted vermillion in spring last year.
Neither gate is a designated cultural property, but the hall, a designated national treasure, houses Buddhist statues that are designated national treasures or important cultural properties.
"We've never experienced such a terrible prank. We're very upset about it," a spokesman for the hall said.