Home Asia Pacific North Asia Japan


'Daikon' ceremony gets under way at Kyoto temple
Japan Times, Dec 8, 2008
KYOTO, Japan -- An annual two-day Buddhist ceremony to cook about 10,000 meals using 5,000 "daikon" started Sunday at a temple in Jokyo Ward, Kyoto, as thousands of pieces of the Japanese radishes were kept simmering in huge caldrons.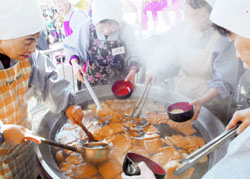 << Stir it up: Meals using "daikon' Japanese radishes are prepared Sunday during an annual Buddhist ceremony at Daihoonji Temple in Kyoto. KYODO PHOTO
The ceremony at Daihoonji Temple is to commemorate the date of Dec. 8, when Buddha is believed to have achieved enlightenment.
Visitors seeking good health and luck bought a cup of steaming daikon soup for ¥1,000.
The Jodoe ceremony started when a temple monk in the Kamakura Period (1192-1333) engraved amulet characters on the cut surface of daikon radishes and distributed them to followers at the temple.
Kyoto on Sunday saw its coldest temperature of the season so far, with the day's low at minus 1.8 degrees.