Home Asia Pacific North Asia Japan


Blissful waterfall
The Yomiuri Shimbun, Jan 21, 2009
Kamiichimachi, Japan -- Pilgrims clad in white pray for good health while standing under a waterfall at Oiwasan Nissekiji temple in Kamiichimachi, Toyama Prefecture, on Tuesday.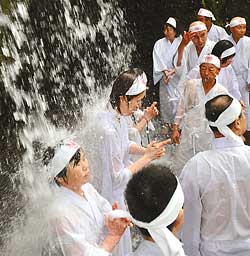 About 60 people took turns to stand beneath half a dozen six-meter-high waterfalls and chanted Buddhist sutras during the ritual held on Daikan, traditionally the coldest day of the winter, while braving temperatures of minus 3 C.

Oiwasan Nissekiji is the head temple for the Shingon sect. It is said to have been founded in the year 725 by the Buddhist saint Gyoki.





About Us
Get Breaking Buddhist News in your Email. Free subscription.

Please help keep the Buddhist Channel going

Point your feed reader to this location
Wikipedia: Buddhism by Country
Sangha Directory
Ecards
Wallpapers
E-Library
Archives
Sitemap
Submit an Article
Write to the Editor
Affiliation Program