Home Asia Pacific North Asia Japan


Man collared in Mie over statue theft at Kyoto temple
Mainichi Daily News, March 2, 2009
KYOTO, Japan -- A Mie Prefecture resident has been arrested in connection with the theft of a statue from Kennin-ji, a Zen Buddhist temple in Kyoto, police said.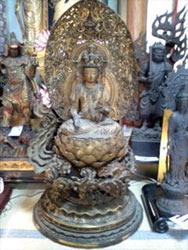 << The statue of the Buddhist goddess of Mercy found at Abe's home. (Photo courtesy of Kyoto Prefectural Police)


Mainichi Daily News, March 2, 2009



Police have arrested Itsuo Abe, 59, from Yokkaichi, Mie Prefecture, on suspicion of stealing a wooden statue of the Buddhist Goddess of Mercy from Kennin-ji, Japan's oldest known Zen Buddhist temple.

The statue itself is 70 centimeters high, weighs about 3 kilograms, and dates back to the early Edo period, when it was donated to the temple by Masako Tokugawa, a daughter of shogun Hidetada Tokugawa. It is not a designated cultural asset.

Police say that on Jan. 31, a suspicious individual was seen on security camera footage breaking into the temple and bundling the statue in a jacket. He was spotted again by a nearby parking lot camera getting into a car, and police were able to identify it as Abe's.

A number of other statues were found in Abe's home, and he is being investigated in connection with a string of similar thefts since last autumn.