Home Asia Pacific North Asia Japan


Buddhist Leaders Issue Anti-Lee Statements
By Bae Ji-sook, The Korea Times, June 15, 2009
Seoul, South Korea -- Thousands of Buddhist monks issued statements Monday, asking the Lee Myung-bak administration to change his governing style to more communication with the people.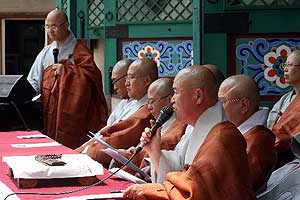 They said their statements are also designed to prevent the backward movement of democracy.
About 1,200 monks of the Chogye order, the largest Buddhist's circle in the nation, raised their voices against Lee's policies.
"President Lee's one-sided policies have shown signs of the derailment of democracy,'' Ven. Hyon Gak said in a statement issued by the group.
They also urged President Lee to "apologize for the politically-motivated investigation'' of the late former President Roh Moo-hyun.
The monks will hold a mass protest at Tongdo Temple in South Gyeongsang Province on July 1.
A spokesman for the Buddhists said, "More than half of the top officials in the order have signed the statement. We did not allow 2,000 trainee monks to participate in the signing, although many of them wanted to join.''
This is largest number of monks to sign a statement. The previous record was an anti-government statement signed by 750 monks in the ``June Pro-democracy Movement'' in 1987.