Home Asia Pacific North Asia Japan


Get a taste of a monk's life at Buddhist cafe
By TOMOKO OTAKE, Japan Times, Sept 3, 2010
Mount Koya, Japan -- Koya-san Cafe is an event that gives you a taste of what life is like at the Buddhist stronghold of Mount Koya in Wakayama Prefecture.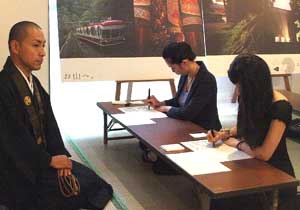 << Life of Koya: Visitors experience Buddhist traditions at Koya-san Cafe.
The annual event, which runs through Sept. 12, is in its fourth year and is aimed at promoting the cultural attractions of the mountainous area, home to the Shingonshu sect of Buddhism and a UNESCO World Heritage site.
This year, the venue has been shifted from Tokyo's Aoyama district to Marunouchi House, near JR Tokyo Station, to appeal to a wider variety of people, especially office workers, organizers said.
There, Buddhist priests from the Kongobuji Temple will teach guests how to do shakyo — the practice of hand writing a copy of the Buddhist sutra to attain peace of mind — for free. Nine restaurants in the building will also offer their original versions of shojin ryori, the traditional Japanese cuisine prepared by monks.
Their cooking follows the basic principles of gomi goho, which uses only vegetables, beans and seaweed and produces five different tastes (sweet, salty, sour, bitter and spicy) through five different ways of cooking (frying, stewing, deep-frying, steaming and serving raw). Dishes range from vegetable tempura to eggplant pasta.
Koya-san Cafe takes place at the Shin-Marunouchi Building near JR Tokyo Station. Admission is free. For more information, (03) 3595-3392 or e-mail koyasan-cafe_2010@infor-event.net