Home Asia Pacific North Asia S/N Korea News & Issues


Buddhist groups in Korea plan to fight Christian bias in government
The Hankyoreh, July 4, 2008
Groups led by the Jogye Order will join protests and hang banners in an effort to call attention to their cause

Seoul, South Korea -- Buddhist groups, which have complained that the government of President Lee Myung-bak is more partial to his Christian religion, have decided to take action.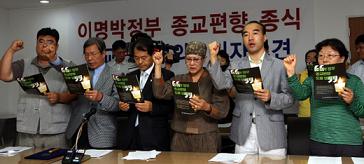 << Members of a Buddhist coalition formed to urge President Lee Myung-bak to reconsider its bias toward Christianity shout slogans at Jogye Temple on July 3.

In a meeting with some 20 groups held at Jogyesa, the main temple of the Jogye Order of Korean Buddhism, in Seoul's Gyeonji-dong on July 3, they decided to take action against what they say is the government's tendency to favor Christian groups. Since the inauguration of President Lee, Buddhist groups have felt a sense of alienation because Lee appointed a number of Christians to posts in the Cabinet and at the presidential office of Cheong Wa Dae, or the Blue House. The decision came after the government excluded big temples from inclusion in "Algo Ga," its new transportation information system.

The Buddhist groups plan to take an active role in Buddhist services set for July 4 in front of City Hall and Jogyesa, a move expected to have an influence on the candlelight demonstrations.

In a statement released the same day, the Buddhist groups said, "Government officials, who have to function as public servants, have carried out the activities of missionaries or forced people to believe in their religion by exploiting their official posts. These are unpatriotic acts that undermine national harmony, split public sentiment and trigger disputes among different religions. We will deal sternly with government officials who have been partial to a certain religion to keep the principle of separation of church and state, which is clarified by Constitutional Law Article No. 20."

At the meeting, the Buddhist groups offered various cases that prove the government's Christian bias. Immediately after President Lee's inauguration, a worship service led by Pastor Kim Jin-hong was held at Cheong Wa Dae. Joo Dae-joon, the deputy chief of the presidential security division, publicly stated, "My dream is to bring evangelism to all government agencies." Cheong Wa Dae "mistakenly forgot" to send a congratulatory message to the major Buddhist temples on Buddha's Birthday. Choo Boo-gil, Cheong Wa Dae's public relations and planning adviser described the candlelight protesters as Satanic.

In addition, the Buddhist groups plan to hang large banners, which highlight the government's Christian bias, at each temple. At Buddhist services, they plan to publicize the issue and the importance of harmony among religions. They are also planing to place calls to Cheong Wa Dae, the Ministry of Land, Transport and Maritime Affairs and other related government agencies to protest.

The 20 groups brought together by the Jogye Order will form a coalition with the Cheongtae Order, the Taego Order and other Buddhist Orders.