Home Asia Pacific North Asia China


First Museum for the Bulang Minority Unveiled
Xinhua News, Feb 8, 2006
Yunnan, China -- The project to build China's first ecological museum for the Bulang minority has been completed in Yunnan Province recently.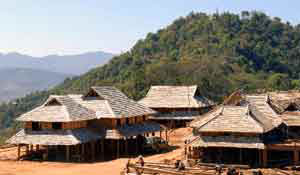 << A tranquil Bulang Minority village. Photo: Xinhua
This newly dedicated ethinic museum is located in the area bordering Myanmar, where about 90 thousand Bulang minority group have lived for centuries and still follow their old ways of life.
The museum houses one of the oldest Bulang minority settlements, which boasts a history of 1,400 years. In addition, it also preserves ancietn Buddhist temples, pagodas and sutra libraries, as well as some uncontaminated local tropical rain forests.