Home Asia Pacific North Asia China


Annan calls for harmonious coexistence of world people
Xinhua, April 13, 2006
HANGZHOU, China -- United Nations Secretary-General Kofi Annan called on the international community to work for the common interests and harmonious coexistence of people across the world in a le tter congratulating on the opening of the First World Buddhist Forum here Thursday.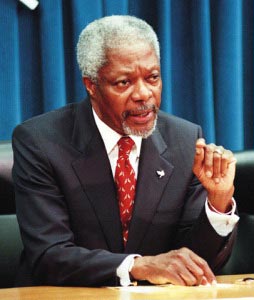 << UN Sec General Kofi Annan
The letter was read by Tung Chee Hwa, vice-chairman of the National Committee of the Chinese People's Political Consultative Conference. Annan urged people to think beyond their narrow and short-term interests, and raise themselves to a universal perspective from which the well-being of the broader human community can be seen to be as important as the individual well-being.
He said that the Buddha's ethnical and humanitarian ideals gave birth to a vibrant spiritual tradition that continues, more than 2,500 years later, to ennoble the lives of millions of people.
"Today, the Buddha's vision of peace may be more relevant than ever before. Indeed, if we want to have a chance of overcoming the many challenges that face us today - in the fields of peace and security, development, and the protection of our global environment."
He called on people, whatever their origin, race, culture or belief, to be aware of the fact they are not essentially different,as they share the same home, an ever smaller planet on which everyone is bound to live together.
"So, let us work together toward the common good and the harmonious and peaceful coexistence of all the world people," Annan said.