Home Asia Pacific North Asia China


World's oldest wooden Buddhist pagoda in China tilting
PTI, Sept 1, 2006
Beijing, China -- The world's oldest wooden pagoda situated in north China's Shanxi Province, which celebrates 950th anniversary of its existence next week, is tilting.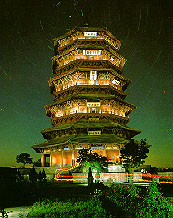 There is an obvious tilt between the first and second floors of the Sakyamuni pagoda in Yingxian city, an expert said. There are also 300 places in the pagoda that are in need of repair, he said.
At 65.86 meters, the pagoda is said to be the tallest wooden pagoda in the world. "We are worried about the ancient pagoda's safety," Xinhua news agency quoted the expert as saying.
A special organisation has been formed to prepare a plan to repair and protect the structure. Built in 1056 and located some 380 km from Beijing, the nine-storey pagoda is a superb example of ancient China's building and carpentry techniques.
The 950th anniversary celebration scheduled for September five is expected to attract 30,000 people, the report said.