Home Asia Pacific North Asia China


Cable car to Hong Kong's Big Buddha to open
IOL, September 12 2006
Hong Kong, China -- A new Hong Kong cable car designed to take tourists to the world's largest outdoor statue of Buddha will open on September 18, nearly three months after technical glitches delayed the launch.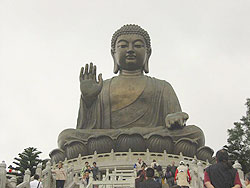 << Hong Kong's skyrail will bring tourists to the world's largest sitting Buddha
The launch of Ngong Ping 360, originally set for June 24, had been postponed indefinitely while operators investigated the cause of a breakdown that left 500 visitors hanging in mid-air in motionless cabins for two hours.
Bill Calderwood, managing director of Skyrail, said the opening date was now set following the successful completion of the seven-day trial run.
"In addition to the spectacular cable car ride with panoramic views of the North Lantau Country Park and Tung Chung Bay, our guests can be assured that the cableway and its supporting systems will offer a reliable, comfortable and fun tourism experience," he said in a statement.
The cable car, which took over two years to build, will glide 5,7km over hills to a culturally-themed village near Hong Kong's Big Buddha statue.