Home Asia Pacific North Asia China


India should return Tawang to China: Chinese scholars
Zee News, Nov 15, 2006
Beijing, China -- Amid the heat generated by the latest Chinese claim of sovereignty over entire Arunachal Pradesh, prominent scholars here have backed Beijing's claim over Tawang, a strategic Buddhist town nestled in the Himalayas.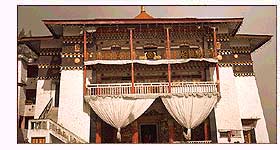 << Tawang monastery
Speaking at the first-ever seminar on the 1962 India-China war and the boundary issue, held ahead of Chinese President Hu Jintao's maiden state visit to India from November 20, prominent Chinese scholars on South Asia voiced their firm support for Beijing's stand that India should return Tawang to China as part of the final settlement.
"India entered into Tawang, the birthplace of the sixth Dalai Lama, in 1951. For Tibetan Buddhism Tawang is important," the Deputy Director of the Institute of Asia-Pacific studies of the Chinese Academy of Social Sciences, Professor Sun Shihai said.
"In the negotiations for the settlement of the boundary issue, both countries should be sensitive to the national sentiments of each side," sun said.
Sun, who presided over the seminar, told here that Chinese scholars were of the view that both India and China should be willing to make 'adjustments' in the eastern and Western sectors of the disputed boundary for the final settlement of the border dispute.
"The McMohan Line, drawn by British is illegal. Successive Chinese governments have not accepted it. There is no question of the current socialist government accepting it as well. But we can discuss and make adjustments," he said.