Home Asia Pacific North Asia China


Sri Lanka presents Buddha statue to China
Source: CCTV.com, Feb 28, 2007
Beijing, China -- Sri Lankan President Mahinda Rajapakse presented China with a Buddha statue on Tuesday. The President had also given a five-year-old elephant to China on Monday. 2007 is an important year for both nations as they celebrate 50 years of diplomatic ties between China and Sri Lanka.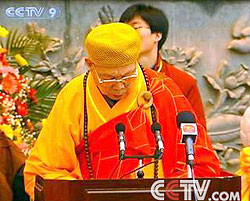 << Yi Cheng, President of the China Buddhist Association
The China Buddhist Association held an enshrining ceremony for the Sri Lankan Buddha statue at Beijing's Ling Guang Temple. President Rajapakse hailed the event a boost to relations between the two countries.
Mahinda Rajapakse said, "Sri Lanka has long regarded China as a splendid civilization. Ling Guang temple is a symbol of peace, friendship and respect. The two nations will surely strengthen bilateral ties in the future."
Senior monks from both countries attended the ceremony, chanting prayers. Yi Cheng, President of the China Buddhist Association praised the interaction between the nations' Buddhist communities.
Yi Cheng said, "China and Sri Lanka have had Buddhist exchanges since ancient times. The Buddhist communities of the two nations have contributed greatly to developing bilateral friendship."
President Rajapakse arrived in Beijing on Monday, kicking off a seven-day state visit to China.